Rio de Janeiro had been on my bucket list for as long as I can remember. There was a mysterious sex appeal that followed this iconic city in my mind since I met my first Brazilian. Thus, when I found myself in South America for the first time, I knew I had to make a trip to Rio happen one way or another.
Travel / Visa:
I had not realized that I (along with Australian, Japanese, Canadian and other US citizens) was going to need to apply for a tourist visa before getting to Brazil. Originally I thought the only way to do this was via a Brazilian Consulate. However, after some research, I found out that I could apply for my Brazilian tourist visa via iVisa, a website that allows you to do the entire process far quicker and online.
*I expedited my process, so it was a bit more expensive, but I've learned that plans can change last minute, so I just wanted to get this done asap. This should be your number one priority when planning your trip to Brazil, so be sure to check out this website, iVisa, or the laws that abide for you when traveling to this beautiful country.
Three days later I had my Brazilian tourist visa emailed to me, and after having my hotel in Iguazu Falls print it out for me, was set to cross the border into Brazil. Some other blogs and websites had mentioned that you may need to present your exit flight when entering Brazil, but my border crossing at Iguazu Falls, which I did with a car, was super easy, and they didn't ask for anything besides my visa.
*Pro Tip: When you look like you're backpacking most custom agents are far nicer, and put up less interrogation because it's basically understood that you just want to come and see their beautiful country. Thus, don't feel the need to be flashy at borders.
After a two hour flight from Foz do Iguaçu International Airport (IGU) to Antonio Carlos Jobim International Airport (GIG), I found myself in the airport of Rio with access to the airports free wifi. This made getting an Uber to my Airbnb, which was located about 45 minutes away at the border of Ipanema and Copacabana super easy and efficient.
Accommodation:
I would recommend staying in Ipanema if you want to have quick and easy access to the most beautiful beach, but also access to Copacabana, its neighboring beach and cute little town. Santa Theresa is another amazing neighborhood that is artsy, has a fantastic bohemian vibe, and is far closer to the proper nightlife that starts around 1 AM in Rio.
I decided to get an Airbnb while in Rio because I wanted a bit of more privacy, security, and comfort than most hostels could have provided based on the reviews I read. Hotels are another option, but I personally like to feel like a local as much as possible while traveling, and I love having access to a kitchen if I want to cook. Additionally, I got sick while in Rio and having AC, my own bathroom, and a clean apartment made me feel more like a human than being in a hostel, which I am a fan of for places like South East Asia and Europe.
The Vibe:
Driving from the airport to Copacabana I was overwhelmed by how much beauty and color flow through Rio, but also how much poverty exists in this once thriving metropolis. The favelas that hang over the city are a huge reminder that Rio de Janeiro struggles with a massive wealth divide and political corruption. However, this should not stop you from exploring this South American dream.
My first mission once I was settled into my Airbnb was to wander over to Ipanema, which was about a 15 minute walk from my Copacabana residence, and find Claro. Claro is one of the many phone service providers that you can buy a SIM card and data package through. All you need is your passport and some money. This is something I do in every country I visit. It's far cheaper than using most American global services, and takes away all the guessing work. My package and SIM card cost around $20 US and gave me access to wifi and phone services for a month, even though I was staying for just 1 week.
Then it was time to see the world famous Ipanema Beach. Walking up to this beach and seeing the mountains juxtaposed against the city, I instantly understood why Brazil, and more specifically, Rio, had been a place so many travelers spoke so highly of. It truly is one of the most stunning beaches. It's full of gorgeous people of all sexualities, backgrounds, and sizes. Color, skin, and an attitude of ease instantly infiltrate your mood. Everything and anything you could need from bathing suits, to drinks, to food, to whatever else you can imagine can all be found right on the beach. What makes it even easier is that the goods come to you with amazing Brazilian characters.
However, as many locals pointed out to me, you must be on your guard as pickpocketers and thieves are prominent throughout the city and beaches. They are just waiting for you to give them the opportunity to run off with your things. If you are alone, tie your bag to your beach rental chair, which cost $1 US dollar, and make sure it's in near you at all times. I was by myself a lot, so when I did want to go for a swim, I asked people close by, who I could feel weren't about to dart off with my things, to watch them for me. This meant I physically brought my bag over to these people and had them put it in front of them with their things. Everyone I asked was super kind and helpful. You shouldn't feel weird doing this as this is something many locals do as well.
As a whole Rio is dealing with a lot of political issues, like many other cities and countries, so there is a fair bit of perigo, aka danger. However, as I've traveled all over the world, you learn that you have to be smart no matter where you are, and abide by local rules and codes. Don't walk around in sketchy areas late and by yourself. Don't wear anything expensive or flashy in general; it just isn't worth it. Don't be loud, drunk, and screaming that you are a tourist. Stick to these type of rules, and you'll be fine in most situations.
Wellness:
Something to note is that the Brazilian tap water is not safe to drink, so make sure you either drink from bottled water, or have a good filter attached to whatever you are getting water from. I've heard of Bali Belly, Montezuma's Revenge, Dehli's Belly, and a few other Traveler Bowel Movement "issues," but I had never heard of anything like this in Brazil. Well, even though it may be TMI, it's important to note that this is also a thing in Brazil, and I experienced intense bodily issues for almost my whole week in Rio.
Thanks to a Brazilian doctor friend I have and these drugs, which you can get over the counter in Brazil, I wasn't held hostage to my Airbnb for more than one full day.
Drugs/Things To Help:
Simeticona Gotas - 35-40 drops every 6 hours / for at least 3 days
Buscopan Composto - 1 pill every 6 hours for abdominal pain
Vanau Flash 8mg - if you start to vomit or nauseating
Dipirona 1g - for pains and fever
Tylenol 750 mg - for pains and fever
Drink lots of liquids (3-4L of water/day)
Drink Gatorade or coconut water for electrolytes
Avoid:
Greens
Fiber/Cereals
Alcohol
Places that just look a bit off
Hospitals / Free Clinics:
*Below are the two top rated hospitals in Rio. I have traveler's insurance, so these costs would be covered, but I chose to go to the free clinic as I wanted to experience what that was like for the locals and travelers who don't have private insurance. This was also completely free for anyone. These three places are all walking distance from one another, so if one feels off you can easily get to another.
Copa Star - R $900 (around $250 US) for the initial consultation fee and first one hour, and then R $500 (around $150 US) every other hour you stay in ER, basic medicine included.
Copa D'Or - bigger and less fancy, but has more diverse medical staff. Price may be slightly cheaper.
UPA 24H Copacabana - not fancy, free, and feels like a lower income clinic. Did everything I needed them to. Wait time was 2 hours to see the clinic doctor, and there is no AC, so be mindful to bring bottled water with you.
The Neighborhoods:
Once I found myself somewhat managing my stomach issues, I forced myself to explore Rio. I could not stomach, literally and metaphorically, sitting in my Airbnb all day, so I ventured for half days with the help of an Uber to Santa Theresa and Centro. Two neighborhoods that are about a 30-45 minute car ride from Ipanema / Copacabana.
Centro
Centro is home to more traditional city life, some beautiful old buildings, many churches, and the Portuguese Reading Room, which I happened to just stumble upon. This neighborhood has lots to see, and is worth checking out if you plan on heading to Santa Theresa.
Santa Theresa
Santa Theresa, which is walking distance and right next to Centro, is a more bohemian neighborhood with awesome street art, the famous Escadaria Selarón, aka the Selaron Steps, and super stunning vista points at places like the Cultural Center by the Museu da Chacara do Ceu.
Definitely head to this neighborhood, get lost, and just enjoy exploring. Be mindful of the favelas, but don't get stuck on an expensive and unnecessary tour. I also headed to these neighborhoods on two different nights. Once for a gay party that happens on Saturdays at the venue The Week. Expect to find hot men, some women, and an overall big big big party that happens later in the evening all within a giant venue. I got their around 1 AM. It was a bit late for me, but perfectly on time for Rio standards. On Sunday I headed to La Carmelita, which has locals dancing and living it up to classic Forro music. Strangers dance cheek to cheek, and it's not your standard tourist bar. You can also get some of the cities best pizza there. I can't vouch for this as I avoid lactose, but multiple reviews seem to validate this.
Ipanema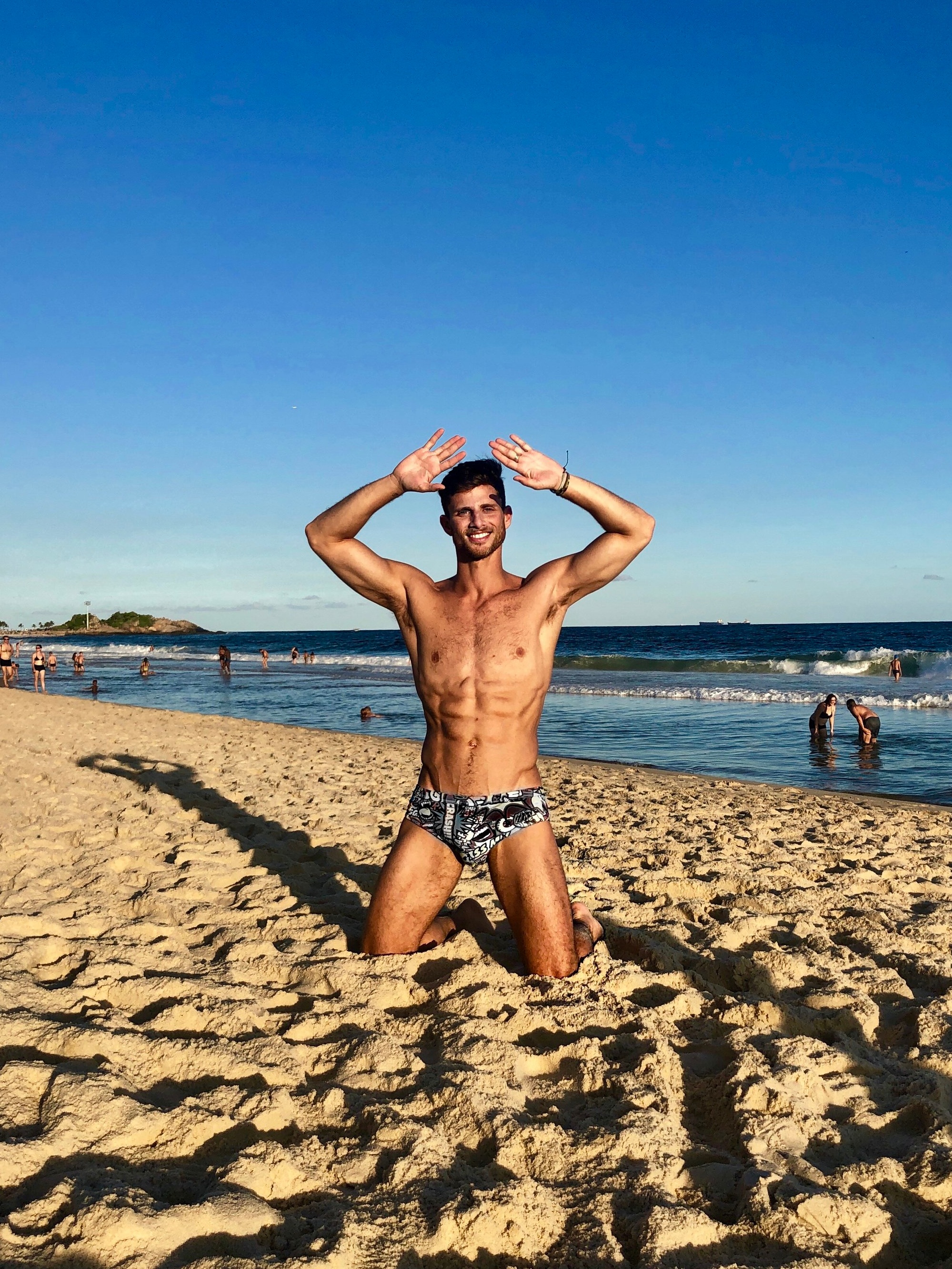 Ipanema is where I felt most like a Carioca, which is what the locals call themselves. My first morning there, I woke up super early thanks to jet lag, and wandered into the main part of this neighborhood, where I stumbled upon a big farmers market. Fruit, meat, veggies, and some local goods decorated the main square, and really made me feel like I was finally in Rio. This same market on the weekends becomes a full day affair with silver, home goods, clothes, and so many other super cool local Brazilian goods, so make sure to check this out. The exchange rate currently makes everything super cheap, and I always think it's important to support the locals when visiting any city in any country, so don't go overboard, but treat yourself.
My favorite restaurant in Ipanema was a place called Rayz. It's got live Samba almost everyday, delicious food, and locals that transport you back in time to when Rio was in it's prime. I fell in love with this place and it's overall vibe, and you will too. I guarantee it!
Another spot that you must find when in Ipanema is a place that for the very first time made me understand the obsession with coconut water and acai. I had had these things before, but they were complete imitations to the real thing that you find in Rio. A local guy I befriended showed me this hidden gem, and I'm letting you in on this super cheap, but insanely awesome secret. I couldn't find the name, but it's a bohemian store attached to a buffet, and located on R. Barao da Torre with the cross street R. Farme de Amoedo. The acai is on the left side of the huge shop, and the delicious and amazingly fresh coconut water you can get by walking right up to the "bar" on the right side. Find this spot, and be sure to tell me how amazing it is! Again, I did not like either of these things before, but having them fresh, served perfectly chilled, and in Rio made me a convert. I'm also convinced all the fresh coconut water is what makes everyone so freakin gorgeous! You're welcome.
To round out your trip to Rio de Janeiro, you must stop at these world famous spots: Christ the Redeemer at Corcovado, Sugarloaf Mountain, and The Botanical Garden (Jardim Botânico do Rio de Janeiro).
Christ the Redeemer is one of the seven man made wonders of the world, and it comes as no surprise when you arrive to this giant structure why that is. If you have the ability to go during the week then I recommend going then because the amount of tourists at all of these spots is pretty insane. I used the Trem do Corcovado App to buy my ticket and schedule my time ahead of time, and I highly suggest doing the same.
I was able to get a picture with practically no one in it at Corcovado by being there on a rainy day, being beyond patient, and using my iPhone X's panorama feature turned sideways. Definitely try this pro tick, but good luck getting no one in your shot.
Sugarloaf Mountain, or Pão de Açucar which is located in Urca, and at the mouth of Guanabara Bay, is another must. You can buy your tickets ahead of time, but I bought mine there. It took maybe 10 minutes of waiting in line on a sunny Saturday. The views are breathtaking, it's not too crazy with tourists, and there are many different vistas to wander to and from while enjoying this beautiful mountain top. Another pro tip is to go to the back side of the air trams and watch them go up backwards. You get an incredible view, and most people run to the front, so go against the grain and be rewarded.
Finally, commit to 2-3 hours if you are in a crunch for time and head over to Jardim Botânico do Rio de Janeiro. This stunning garden houses fauna and flora from around the world, but mostly things that thrive in Brazil's tropical climate. The city itself is the most amazing combination of urban and jungle life, and the botanical garden does not disappoint. Entry is super cheap. I would recommend just getting lost once inside, but make sure to head over to the back edge of the garden, where you can find monkeys living their best life.
Some other things that I was told to check out, but ran out of time for are:
Restaurants:
Sushi Leblon - Sushi

Mee at The Copa Palace - High End Sushi

Sawasdee Bistro - Thai Food

Oteque

Fasano Al Mare - High Seafood Cuisine

Balada Mix

Delirio Tropical

Ella - Pizza

ORG - Healthy and Veg

Prana - Healthy and Veg

Iraja

Sud O Passaro Verde
Bars:
Belmonte

Jobi

Astor and Riba

Oscar Bistro
Others:
Smart Fit Gym - think Equinox in Rio. Around $8 US a day.

Beach Gym by Santander - at the beach, built by Basque bank, and free if you download the MUDE App.

Porto Maravilha - renovated for the Olympics

Santiago Calatrava - Museum of Tomorrow

MAR- Ri Art Museum

Parque Lage

Forte de Copacabana

MAC in Niterio - Museum designed by Oscar Niemeyer and overlooking Rio
And that my friends is my travelers guide / tips for a week in Rio. Again, I got sick, so lost a day just trying to rest up. It also rained a bit, but it kind of helped get rid of the masses at the big tourist spots. The city can be quite wet as it is jungle climate, so some days I spent resting and then exploring, but I definitely saw enough to know I will come back at some point very soon to experience Carnival, and explore this city and country even more.
Let me know what tips and tricks you have for Rio in the comment section below. Let's make this the ultimate guide for this stunning city.
Much Love,
Barrett
P.S. Don't forget to check out my instagram posts and highlighted stories (@barrettpall) of Rio, and all my other travels as a guide to help you navigate, get a feel, and understand the cities I travel to.